Shipping:
Free and website quoted shipping applies only to the lower 48 states (US.)
Victory 4x4 uses many delivery options included but not limited to; UPS, FedEx, or USPS. The carrier used will depend on order size, weight, and transit times. We can deliver our products anywhere in the United States; Alaska or Hawaii are sometimes cost-prohibitive, please contact us for a quote. We are unable to ship to post office boxes. We also can ship to Canada; please contact us for a quote. All tracking information will be updated as soon as we make your shipping label. Please enter a valid e-mail address upon checkout. You can contact the shipping department
Here
. Please allow 24 hours for our shipping department to respond to your e-mails. Customers are responsible for all shipping charges, and any taxes or duty on international shipments. Shipping charges can change without notice. All lost or damaged items need to be reported to the shipping department at Victory 4x4. We are not responsible for time complications associated with lost or damaged items but will work to rectify the situation promptly. Please contact us with any shipping problems immediately. We cannot be responsible for any time impediments with shipped packages. We cannot guarantee any delivery dates but, if provided with enough notice, we will try to meet your deadlines. Allow 5-9 business days to receive the package once the item has been shipped. (See Map)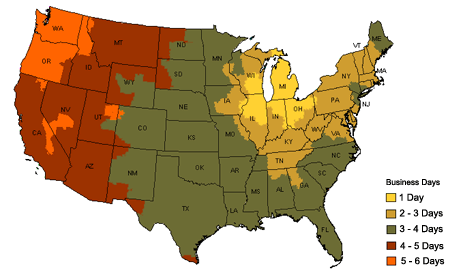 Order Completion:
All Orders are processed in the order in which they are received. Some items may already be in process, while others have to be completed in a future batch. Our current lead times are updated here.
Order Problems:
We try our best to catch any fitment or alignment issues before your item leaves the shop, we do sometimes miss things though. Please test fit ALL items before painting/finishing. We cannot give refunds on painted items; we can only repair them. Victory 4x4 is not responsible for coatings on repaired bumpers.
Victory 4x4 Warranty and Replacement Information:
Victory 4x4 warranties our products against defects in materials and workmanship for a period of one (1) year from the date of original purchase.
Product hardware, accessories, and wear items (Latches, lights, bushings, etc...) are not included under any part of our warranty.
All returns to Victory 4x4 require an RMA (Return Merchandise Authorization) number and must be pre-approved by Victory 4x4. Any package without an RMA number will be returned to sender, at sender's expense. Upon our receipt of the damaged product, it will be replaced or repaired at our discretion. The warranty is only applicable to the original purchaser of the product; all names of customers are held in a database for reference. All returns will be checked, and any modifications made to any of these products will void the warranty. Installation labor, paint, powdercoat, or any other finishes are not covered by warranty. We do not cover shipping, insurance, import fees, or duties and taxes for the returned product. If after inspection, we find the product to be defective in materials or workmanship, we will at no-cost repair or replace the defective product with the same or comparable product on a "best-effort" basis. This warranty does not cover incidental or consequential damages such as damage to or loss of directly or indirectly caused by the product. Please contact us about product failures regardless of the reason. We are extremely fair but ultimately have the right to refuse any warranty claim.

Return Policy:
No custom order is returnable. No refunds after 30 days from the time you receive the item. Returns must be authorized by Victory 4x4. 25% restocking fee applies to all returns. Shipping either way is non-refundable. You will be charged for missing parts or hardware, so please make sure you sent everything back with your product.
Order Cancellation:
No custom order may be canceled, or returned. To cover the cost of development, and parts, down payments for custom work are non-refundable. Cancellations must be made before the order has shipped if shipped return policy applies. All orders that have reached shipping and receiving will be considered shipped. Cancellations are subject to a 15% fee.
Refunds:
All refunds can take up to ten business days for the transfer of funds. All credit card payments will be refunded to the original card provided. Cash refunds will be given only for cash payments.
Pricing:
We strive to provide a great product at a low price. Keeping prices down is as important to us as it is to you. Climbing steel prices and excessive fuel prices may cause price increases that will be applied as necessary. We will inform you of price increases as best as we can, but all prices are subject to change without notice.
Local sales and Pick-ups:
All local purchases, local work, and orders that are picked up by the customer are subject to Michigan sales tax which will be totaled into the final invoice of which the customer is responsible. All of our products are available for local pick-up. Back ordering of some products may still apply. Pick-ups must be scheduled in advance.
Limitation of Liability:
If the Victory 4x4 product fails to work as warranted above, Victory 4x4's maximum liability under the above warranty is expressly limited to the cost of repair or replacement of any products or components that malfunction in conditions of normal* use. Except as indicated above, in no event will Victory 4x4 be liable for any damages caused by the product or the failure of the product to perform, including any lost profits or wages, business interruption, loss of use or any other commercial or economic loss of any kind, or special, incremental, or consequential damages. Victory 4x4 is not liable for any claim made by a third party or made by you for the third party. This limitation of liability applies whether damages are sought, or a claim made, under this limited warranty or as a tort claim (including negligence and strict product liability), a contract claim or any other claim. This limitation in liability cannot be waived or amended by any person. This limitation of liability will be effective even if you have advised Victory 4x4, or an authorized representative of Victory 4x4, of the possibility of any such damages or even if such possibility were reasonably foreseeable. This limited liability gives specific legal rights. You may also have other rights that may vary from state to state or from county to country. You are advised to consult applicable state or country laws for a full determination of rights.